The results are in.
Welcome to American Craft Week 2017!
Now in its eighth year, ACW is the nation's largest celebration of handmade American craft. We began with a simple idea: what if EVERYBODY who makes, sells, exhibits, teaches or celebrates American craft – what if we ALL did something at the same time to spotlight an aspect of amazing American craft?
What if we ALL tell the world what craft creates for America: jobs, vibrant communities, economic growth, and an exceptional national heritage and a beautiful aesthetic for our homes and public places.
We invite you to join us! Just click "Become a participant" in the menu above! It's easy and very inexpensive for everyone to add their voice and activity to the nation's largest craft celebration. If you have questions, click on the "contact" button and we will be happy to provide answers and information.
Come back often and watch how ACW blossoms with activity! We also invite you to like our Facebook page), so you get the latest ACW news as it happens.
Let's make the 2017 ACW the largest and most vibrant yet!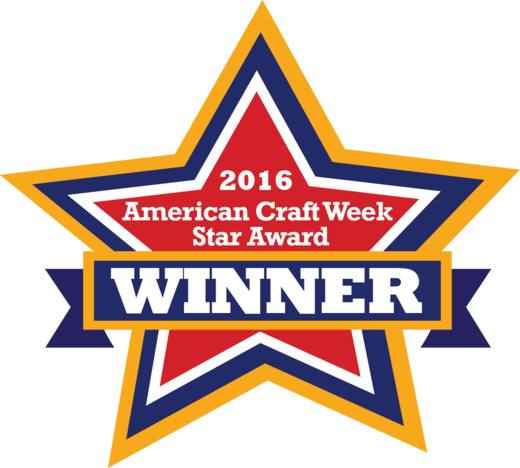 American Craft Week 2016
STAR AWARDS

Most Innovative Event Concept
1. The Clay Lady's Campus - Nashville, TN "Progressive Dinner/Studio Tour
2. Influx - Nashville, TN "12 x 12 at the Dozen Bakery"
The Ultimate Group Celebration
Cumberland Valley Arts Committee, Cumberland Valley, PA, "Treasures of the Valley Tour"
Leading Social Media Campaign
1. Blue Pomegranate, Omaha, NE and Southlake, TX
2. Crozet Arts and Crafts Festival, Crozet, VA
The Perfect ACW Theme Display
Monona Public Library, Monona, WI
Artist/Craftsman Extraordinaire
Matt Beaudoin, Mystic Knot Work, Mystic, CT
Outstanding Charity Event
1. Highlight Gallery, Mendocino, CA "Shopping for Cerf+"
2. Agora Arts, Decorah, IA "Shopping for Arthaus"
Best Expanded Event
Vermont Craft Council, Fall Studio Tour Expansion to Two Weekends
Outstanding Family Event
Shimai Gallery of Contemporary Craft, Nashville, TN "Shimai presents: The Heart and Soul of Middle Tennessee"
Most Energizing Advocate
1. Nora Swanson, Berea, KY
2. Claudia Dunaway, Burnsville, NC
Most Informative Speaker
Gene Johnson, Honorary Chairman, Tennessee Craft Week
Exceptional Nonprofit Participant
Asheville Area Arts Council, "Emerging Craft Artist Showcase"
Exceptional Public Sector Support
Maine Made, Support for ACW and Maine Crafts Association
Exceptional Sponsor
1. Vermont Department of Tourism & Marketing
2. IndieMe and Acre for the ACW Rising Star Showcase
Best Use of ACW Materials
Dover Pottery, Seagrove, NC, Customization of ACW Postcard
Best Marketing Promotion
The Laughing Dog Gallery, Vero Beach, FL "Poster Coloring Contest"
Best Customer Appreciation Event
1. Mica - Fine Contemporary Craft, Bakersville, NC, Bakersville, NC
2. Helen Winnemore's, Columbus, OH
Outstanding Legacy of Craft Education & Demonstrations
Pink Palace Craft Fair, Memphis, TN
Most Resilient Participant
Smith Galleries, Hilton Head, SC "Triumphing over Hurricane Matthew"
Exceptional Media Support
Handmade Business for Coverage of the ACW Rising Star Showcase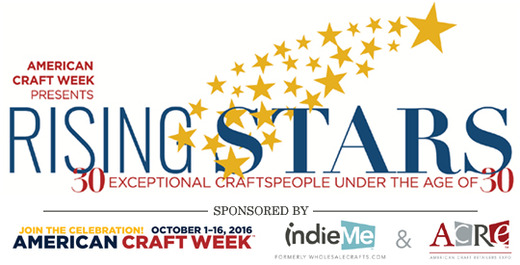 American Craft Week is pleased to announce the winners of the 2016 Rising Star Competition, naming 30 exceptional craft artists under the age of 30. See them all at www.ACWshowcase.com
Please click on the logos below to learn more about our supporting organizations!
American Craft Week is a project of:

Major Sponsors:
Craftsmen Sponsor:
Regional Sponsors: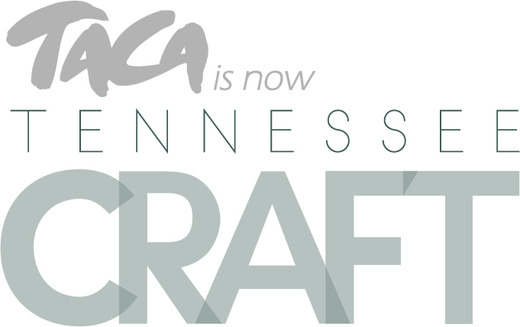 Creative Sponsor:
Celebration Sponsors: