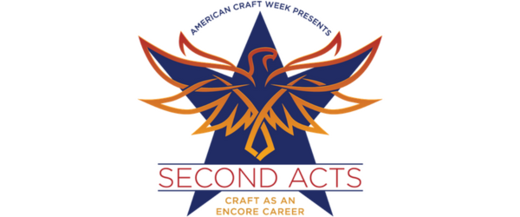 July 25, 2017, Charlotte, NC…American Craft Week is pleased to announce the winners of the 2017 American Craft Week Annual Contest, Second Acts. This contest was held to identify and honor exceptional artists who began their professional life in a career other than craft. The winners are:
Joyce Aysta, Los Angeles, CA, Origami Cards
Anna Balkan, Norcross, GA, Jewelry
Linda Billet, Hummelstown, PA, Fused Glass
Suzanne Crane, Charlottesville, VA, Clay Stoneware
Lee Entrekin, Old Fort, NC, Flutes
Thea Fine, Ellicott City, MD, Jewelry
Bonnie Gibson, Tucson, AZ, Gourds
Elaine Haag, Carlisle, PA, Textiles
Ken Hall, Waynesville, NC, Knives
Allison Jones, Pittsburgh, PA, Jewelry
Ray Jones, Asheville, NC, Wood Boxes
Mary Carol Koester, Asheville, NC, Book Bindery
Christine Kosiba, Brevard, NC, Clay Sculpture
Peter Kramer, Washington, VA, Furniture
Zenia Lis, Broadview Heights, OH, Jewelry
Paul Messink, Palm Desert, CA, Glass
Shirley Price-McGrew, Costa Mesa, CA, Jewelry
Meghan Patrice Riley, New York, NY, Jewelry
Sue Rosengard, Chicago, IL, Jewelry
Laura Silberman, Urbana, MD, Ceramics
Walter Slowinski, Brattleboro, VT, Ceramics
Melissa Stiles, Portland, OR, Jewelry
Judi Tavill, Rumson, NJ, Ceramics
Matt Thomas, Shock, WV, Woodworking
Gerald Tobola, Round Top, TX, Copper and Wood
The winners are profiled and their work can be seen in a special Second Acts digital exhibit at www.acwshowcase.com.
The purpose of the exhibit is to recognize the exceptional work of encore career craft artists and inspire others to pursue a creative career at any point in their lifetime. The entries were judged by the National American Craft Committee on the following criteria:
The story of the artist's career change;
An impressive body of work demonstrating excellence in design and skill level;
The places where the artist's work is displayed, exhibited and sold;
Measurements of the artist's success.
Speaking for the American Craft Week National Committee, co-chair, Sherry Masters, said, "Please join us in congratulating the winners! We were impressed by the very large number of entries, and the excellent quality of the submissions made our decisions very difficult. We encourage everyone to support these excellent artists and others like them in your own communities."
The Second Acts competition is produced by American Craft Week. It is sponsored by IndieMe, the largest on-line market for wholesale American crafts.
American Craft Week is the nation's largest celebration of handmade American craft. It will be held October 6-15, 2017 at participating locations throughout the country. For more information, go to americancraftweek.com.
e-cards
We've started producing fun e-cards for you to share online. Please feel free to pin, post and share.