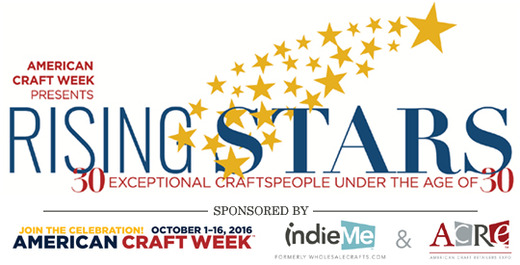 THIRTY YOUNG CRAFT ARTISTS NAMED NATION'S RISING STARS
August 10, 2016…American Craft Week is pleased to announce the winners of the 2016 Rising Star Competition, naming 30 exceptional craft artists under the age of 30. The winners are:
Lindsay Giants Black, 29, Asheville, NC, furniture
Seth Brayton, 28, Portland, ME, furniture
Becky Burnette, 24, Canton, NC, metalsmith
Lindsay DeBlasio, 25, Charlotte, NC, ceramic art
Hannah Ehlman, 25 Frostburg, MD, metalworks
Danielle Gerber, 26, Portland, ME, metalsmith
Jenna Lynn Gianni, 27, Middletown, MD, ceramics
Mary Hamby, 23, Chattanooga, TN, fiber
Reed Hansuld, 29, Brooklyn, NY, furniture
Amber D. Harrison, 28, Ann Arbor, MI, metalworks
Anna Johnson, 27, Asheville, NC, jewelry
Max Macsai Kaplan, 25, Fort Bragg, CA, furniture
Sophie Kennedy, 23, Seagrove, NC, ceramics
Bowen Liu, 25, Rochester, NY, furniture
Martin Moon, 25, Westchester, PA, metalsmith
Keeper Nott, 26, Anchorage, AK, glass
Kirsten Olson, 26, Harrisburg, PA, ceramics
Jacob Michael Pfeifer, 29, Gladstone, NJ, glass
Michael V. Pivec, 28, Queenstown, MD, wood
Cate Richards, 29, Lawrence, KS, jewelry
Trent Robinson, 23, Weaverville, NC, knives
Fabiano Sarra, 27, Snowmass Village, CO, furniture
Alice Scott, 28, Asheville, NC, jewelry
Emily Shaffer, 25, Trenton, ME, jewelry
Joshua Shelley, 25, New Market, MD, ceramics
Tim Sherman, 28, Smithsburg, MD, ceramics
Tricia Taylor, 24, Berea, KY, ceramics
Hanna Traynham, 29, Portland, OR, ceramics
Grace Wintermyer, 26, Richmond, KY, printmaking
Meiyi Yang, 25, West Henrietta, NY, jewelry
The winners are profiled and their work can be seen in a special Rising Star digital exhibit at www.acwshowcase.com. In addition, the October 2016 issue of Handmade Business features a comprehensive article about the 2016 Rising Stars. It is available from Jones Publishing, www.handmade-business.com.
The purpose of the Rising Star Competition is to spotlight the exceptional work of young craft artists. Open nominations were held earlier in the year and the ACW National Committee juried the entries looking for the following:
excellence in design and skill level
an impressive body of work
a strong commitment to working as a craftsperson
work exhibited and/or offered for sale to the public
a commitment to community and social values
Speaking for the committee, co-chair Diane Sulg, said, "Please join us in congratulating the winners! Their works are an outstanding testimony to the promising future of handmade American craft. We also ask you to join us in encouraging and supporting the young artists in communities across the country."
The Rising Star Competition is produced by American Craft Week and sponsored by IndieMe and the ACRE tradeshows, which are dedicated to bringing together the makers and retailers of handmade American products.
e-cards
We've started producing fun e-cards for you to share online. Please feel free to pin, post and share.