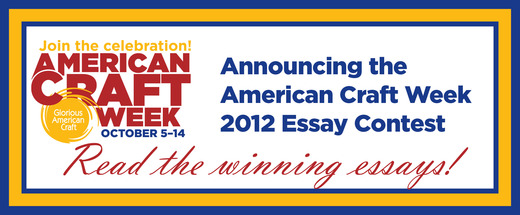 The American Craft Week Committee is pleased to announce the winners of the 2012 Essay Contest.
The first place essay was written by Joanne O'Sullivan of Asheville, North Carolina. The topic was: if you could go to dinner with any traditional American craft artist, living or deceased, who would be and what would you talk about?
Ms. O'Sullivan chose to have dinner with George Ohr, the self-proclaimed "Mad
Potter of Biloxi." Her essay was written during their imaginary meal and through their conversation the writer reveals the artist's looks, personality, and accomplishments. The committee chose the essay because it was so well-written and interesting, plus it left the reader wanting to know more about this eccentric and ground-breaking craftsman.
As first place winner, Ms. O'Sullivan wins a $500 gift certificate to a gallery of her
choice, which she designated to be Grovewood Gallery in Asheville. She also receives a hand-carved sculpture, Birds on the Branch, by the Brasstown Carvers.
Two additional winners were selected by the Committee. One is Sarah Hemm of
Janesville, Wisconsin who wrote about the Native American artist, Mrs. Vanessa
Paukeigope Jennings. Jennings is a nationally honored artist who, following generations before her, creates wood, leather and intricately beaded cradleboards to celebrate the birth of a child. As second-place winner, Ms. Hemm will receive the book, My Journey to Appalachia.
The final winning essay was submitted by Kathleen Besaw of Oswego, New York who wrote about Victoria MacKenzie Childs. As an artist who turns trash to treasure, Ms. Besaw was intrigued by the ways in which Victoria and her husband Richard turned their passion of restoring a rundown farmhouse into an eclectic craft empire. Ms. Besow has won a DVD portraying the people of Appalachia called Sing Behind the Plow.
This year's topic was inspired by the John C. Campbell Folk School, the 2012 Lead Sponsor of American Craft Week. Set in the idyllic Appalachians, the school teaches an enormous variety of traditional crafts to nearly every interest and level of craftsperson.
The prizes were selected from the school's Craft Shop which represents more than three hundred craftspeople. They are happy to join us in congratulating the winning writers!