Stuck on what to do for American Craft Week? We've compiled a list of some events participants have had in the past. With a little imagination, you can make one of these ideas your own!
Event Idea - Charity Event: Support cerf+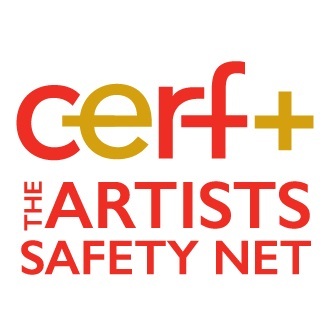 In the past year, the huge increase in artist relief requests from hurricanes and fires, have left the CERF+ Emergency fund depleted. We are strongly urging ACW participants to consider holding a charity event to help the one agency dedicated to helping artists rebuild. Here are many simple ideas:
Round-up for CERF+. Ask your customers to "round-up" their total to the next dollar as a contribution. It will never cost more than 99 cents, but over the course of 10 days, this could make a nice charitable donation.
Hold a raffle. Choose an item from a popular artist and sell raffle tickets – perhaps 3 for $5?
Donate a percentage of your sales from one day or even more!
Place a donation jar on the counter accompanied by a brief explanation.
On the more elaborate end, many galleries have done Soup for Cerf+ events, selling handmade bowls and soup. This is an annual event at Zig Zag Gallery in Ohio!
To Read more about CERF+ click here

Event Idea - Charity Event: Socks for the Homeless
In 2015 & 2016, Appalachian Spring partnered with Solmate Socks to donate a pair of socks to homeless shelters for every pair their customers bought, over 500 in the month of October! Or partner with a local charity you know your customers love, like a pet shelter or a food bank.
Event Idea - Partner With A Neighbor
Combine your resources with another local business! A California potter, the Pot Shop, has made ikebana containers and had an event with a local florist who demonstrated great ikebana arrangements – and they sold both the flowers and the containers.
Craft beer is certainly a hot trend, so why not try an event featuring handmade beer mugs and a local brewery. On a similar note, we heard some Tennessee potters are doing an event selling their handmade coffee mugs at local coffee shops, with a great display up for all of ACW.
Event Idea - Focus On Display
At the Iowa Artisan Gallery, they devoted a window to the making of a beautiful clock, showing all the various stages of from start to finish. Or consider using a community venue, like the public library, a tourist welcome center, or showcases at the airport to show the work of local craft artists.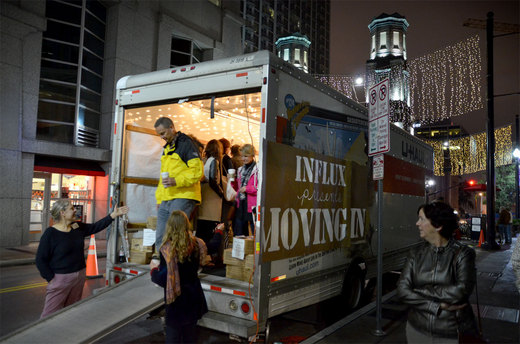 Or take that display on the road! In 2016, a group of local potters in Nashville, TN mounted an exhibit of their ceramic work in a U-Haul and parked it in high traffic areas. They dropped the tailgate, and folks climbed aboard to see their work. And they won an ACW Star Award for their event!
Event Idea - Artist Demo
Do you have an out door area? Have a blacksmith or a pottery do a demo. A lampwork glass artist won't take much space. You could even fit them in a corner inside.
Absolutely Art in Madison, WI invited local artist Aaron Howard to join them in their backyard during American Craft Week 2012. Aaron presented a live blacksmith demonstration, creating Wizard Bottle Openers for spectators to take away. It was a lively Sunday enjoying and learning the rich history of the blacksmith craft.
Event Idea - Kids Craft
Plan a simple, kid friendly craft. Parents can shop while the kids are crafting. These kids are the craft artists, colletors, retailers and buyers of the future. Get them excited about American Craft now!
During ACW 2012, Maddi's Gallery in Charlotte, NC had two events just for kids. In one, a local art instructor led kids in making a vase from air-dry clay over glass. They used the millifiori technique, making rolled canes of clay, then slicing them and joining the slices over the glass.
Event Idea - Trunk Show
Have a trunk show of one of your most popular artists. If the artist can be present that is best…if not, have them send you a collection to consign and sell for the time period you decide on.
~if you choose wearables or jewelry try to have a small fashion show
Partner with a restaurant nearby and have a fashion show and tea and have customers sign up to come…or partner with a group and have it be for their members (garden club, Jr League, best customers of the restaurant or gallery) if you have a museum near you have the event for their donors…
~if you don't do wearables you could do accessories…purses or fall scarves
Event Idea - Student Show
Choose a nearby school that has an art department and have an exhibit of student work. If you don't have an exhibit space, then give them a few shelves in the store or spread it throughout the whole gallery. Or you could sponsor the exhibit in another location (library?) and you could judge and award prizes.
If it is an elementary school have a special opening for parents to come and shop. Donate something to that schools annual fundraiser….give a gift card to the art teacher…show some of the teachers' art projects in the gallery… maybe it is the graduating class that you show (5th graders going to middle school?).
If it is a high school or college you may find a new artist to represent! Have the students agree to donate some of the proceeds of their sales to a local charity that benefits children and you match what they donate.
Event Idea - Ceramics Makeover
Have a trade-in event. Invite your customers to bring in one piece of imported, mass-produced ceramics to donate and offer them a discount on a comprable handmade piece (a mug for a mug, a bow for a comparable sized bowl, etc.) Make sure you require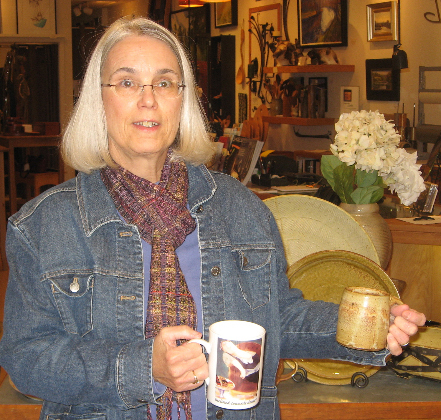 that donated pieces be in good condition, as they will be donated to a charity.
Make sure you take pictures of your customers with their trade-in and their new piece, "mug-shots", to use in your social media outlets (blog, e-newsletters, Facebook, etc.)