We're meeting and planning for American Craft Week 2016! Soon our events will be filling up this page. In the meantime you can keep up with spring and summer Western NC events on Facebook! Please like us at - https://www.facebook.com/AmericanCraftWeekWNC
Mark your calendars for October 1-16, 2016! YES - we are celebrating for 16 days in 2016! ACW typically begins on the first Friday, but several wonderful events start on Saturday, Oct 1 and we didn't want you to miss those!
Check us out!! Here's a short video of American Craft Week in Western North Carolina...to give you a preview of what to expect and enjoy!
---
Appalachian Crafts Asheville
10 N Spruce St Ste 120, Asheville, NC • Visit website
We have been a retail shop in Downtown Asheville since 1980. We represent around 150 different studios, with the majority being located in NC.
Appalachian Crafts has been a participant with American Craft Week since the beginning and appreciate the way they promote handmade throughout the country.
---
Asheville Area Arts Council Asheville
207 Coxe Avenue, Asheville, NC • Visit website
The Asheville Area Arts Council is the collective voice for the arts, advancing Buncombe County, NC, by delivering resources, developing innovative collaborations, and fostering creativity in the community. We work with Sherry Masters in Buncombe County North Carolina on a variety of projects.
---
The Center for Craft, Creativity & Design Asheville
67 Broadway Street, First Floor, Asheville, NC • Visit website • Jump to events page
CCCD is a national 501c3 dedicated to advancing the field of craft for the past 20 years. We invite visitors to CCCD's Benchspace Gallery & Workshop to investigate contemporary practices of making in the shifting creative landscape of the 21st century. Hours are 10-6pm Tuesday thru Saturday.
---
Firefly Craft Gallery Flat Rock
2689 'D' Greenville Hwy, Flat Rock, NC • Visit website
American made, handcrafted fine art & crafts. Located in historic Flat Rock right next door to the post office. We carry fine art, pottery, wood crafts, jewelry, garden art, stained glass, ceramics, furniture, handbags, spirit men, & Willa's famous shortbread, candles, cards and so much more!
---
Arts Council of Henderson County Hendersonville
401 N. Main St., Ste 302, Hendersonville, NC • Visit website • Jump to events page
Art on Main Fine Art / Fine Craft Festival, now in its 57th year, takes place October 1 and 2, 2016, along historic Main Street in Hendersonville NC.
---
Flow Marshall
188 Overlook Ln, Marshall, NC • Visit website
Exhibit in conjunction with ACW October 7-31 "Heavy Metal"
Opening reception Friday October 7, 2016
---
Turtle Island Pottery Old Fort
2782 Bat Cave Rd, Old Fort, NC • Visit website
---
Haywood County Arts Council Waynesville
86 N. Main Street, Waynesville, NC • Visit website
The Haywood County Arts Council (HCAC) is a nonprofit agency that serves all artists and arts organizations in Haywood County. During American Craft Week, the HCAC gallery will host artists of the Haywood Art Studio Tour, which will take place Oct. 28-29, 2016.
---
We'd like to thank the Blue Ridge National Heritage Area for sponsoring our 2015 American Craft Week in Western NC brochure! Click this link and learn more about their mission including support for: traditional craft, music heritage, Cherokee history, natural resources and agriculture.

---
Finally, we want you to know we just completed a collaborative video project to produce a series of short videos telling our Western NC craft story!
We know our region is rich with craft heritage and current day excitement. We'll be sharing some of our craft history in one video giving viewers an insight as to why Western NC has so many artists, craft schools, galleries and supporting organizations.
See the Craft Heritage of WNC video here.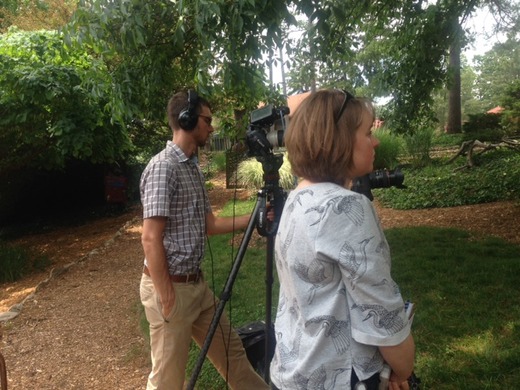 We look forward to celebrating American Craft Week with you this year!